Online Interior Design: How to Execute Great Design With the Help of the Pros
We're delighted to announce that we've partnered with Sandra Funk of House of Funk to share the latest in design trends, tips, and how-tos. An interior designer with over a decade in the industry, Sandra is well-versed in creating sophisticated homes customized to capture their inhabitants' unique lifestyles and personalities. For the second installment of House of Funk's guest blog series, Sandra shares her insight into online interior design.

How does online interior design compare with full-service interior design?
At House of Funk, our full-service interior design is a classic, tried-and-true model. The full-service approach enables us to manage and execute design projects and renovations from the initial concept to the final touches. The process is hands-on, detail orientated, and driven by our on-site presence and project management.

It's our job to take care of the major and minute design details that turn a house into a home. Full-service clients know that their residence will be a true expression of their lifestyle, be it luxurious, sophisticated, or laid-back and welcoming. Their ideal home is a place suited to their needs today, with room to grow into the future.

But what about online interior design? How does it work and what differentiates it from full-service design? No worries, you've come to the right place to figure all of this out.

What is online interior design?
Unlike matchmaker sites like Laurel & Wolf, Decorist, Havenly, or Homepolish, our online interior design service offers you the benefit of the full House of Funk team, all via online communication. We're a true East Coast design firm, and working with us in any capacity means you get the full benefits of our team and process. Speaking of our team, introductions are in order:
Sandra Funk, founder and principal designer, draws on over fifteen years design, with ten years with her own business. She creates thoughtful homes with an emphasis on clean lines and classical elements. Her big-picture thinking and strong visions are sought after by clients, time and time again.

Senior Designer Samantha Lanza brings six years of experience to her expert floor plans, elevations, and project management. Her attention to detail is unparalleled, and her razor-sharp focus is evident in all of her design decisions.

Finance Director Ashley Emala, Business Development Director Ranya Barrett, and Business Operations Coordinator Sarah Harris round out our office with finance, PR, admin, and HR covered.

Our online interior design service takes your input and translates it to exciting design deliverables landing in your inbox. You choose the pace at which you purchase, install, and update your space. You have the power to transform your space with the click of your mouse. It's truly that simple.

Who is online interior design right for?
If you're a go-getter, a doer, someone who appreciates design, has great style, and a desire to create a thoughtful, layered environment, then eFunk is for you.

If you're new to the world of interior design, this is the right place to dip your toe in the water. Our team of expert designers have a combined 40+ years of experience and will be there to guide you through the process. Our design questionnaire helps us identify your style and budget, then the real fun begins. You receive a design pack filled with resources: floor plans, elevations, inspiration and selections for everything you need to create your dream space.

Where does online interior design work best?
The beauty of online design is that anyone from anywhere can access it. Whether you live in a one-bedroom apartment in Los Angeles, a sprawling mansion in Charlotte, or a cozy flat in New York City, you'll receive the same level of expert design as local, full-service clients.
When should I consider using online interior design?
Online interior design is ideal for clients who want a streamlined process they can execute from the comfort of their own home, with the click of their mouse. Full-service projects often involve renovations or custom furnishings that require on-site visits and in-person meetings. eFunk is best suited for individuals and families looking to elevate their space with decorating. Sandra Funk, owner and Principal Designer talks about how eFunk came to be:
Why online interior design?
From our standpoint, great design is no longer location specific! For years, Sandra heard "I wish you were in my town so you could do my house." Now we can!

In addition, Sandra says, "eFunk allows me to truly focus on design, the very best part of my every day. If I can help more people love their homes while doing the most fun part of my job? Score for everyone."

From a client standpoint, your to-do list is long enough. Get your house off of it and outsource to the pros. Our online interior design service does just that. Imagine the space of your dreams conceived and delivered to your inbox. Sound too good to be true? It's not (we promise). Click here to get started.
[image here]

A step-by-step example of how eFunk works:
House of Funk's Finance Director, Ashley Emala, recently came to us about redoing her master bedroom. When asked why she chose online interior design, she said,
Ashley's style leans towards traditional, classic, preppy, and functional. But she was open to exploring accessories and furnishings that pushed the envelope on the true definition of a clean-lined traditionalist. We were eager to get started, and promised her a master bedroom that would be comfortable and relaxing with a dose of chic mixed in. Our design recommendations included a desk and chaise with additional lamps and end tables. This room works so much better now, and feels a whole lot more grown-up, sexy, cool, and refined.

Says Sandra "As soon as I started working on Ashley's room, I realized that most of her furniture was underscaled for the space. That made the space feel small and cluttered. Adding simple panels to her existing shades softens the space and draws the eye up."
Before eFunk
Ashley's "before" furniture was furniture that the couple bought when they first got married twelve years ago.

"It was what we could afford at the time," says Ashley. "It's furniture that we own, but had placed in rental apartments. Thus it never really felt like ours. Now, we're ready to improve the quality and look of our bedroom as a treat to us. Our budget has changed as our careers have evolved, and we're excited to put some energy and investment towards a space that we spend a ton of time in."

The beauty of eFunk is that you choose the pace at which you work. Even before Ashley had finished putting all of the final touches to her master bedroom, the space already felt significantly different. Functional yet fashionable. "It's comfortable yet chic, it's ours, and we're proud of it," says Ashley.

One furnishing Ashley was especially excited for was the pink chaise lounge: "It will add a much-needed feminine touch to the room, and it's something that I would never have considered without the help of an interior designer."
After eFunk
Says Ashley, "The space already feels bigger and brighter, and I definitely want to spend more time in there…without laundry piled in the corner! I would never have been able to realize a room like this without the input from talented designers. The ease of doing it all online was a major benefit."
[after gallery here]

Ashley's other favorite feature of online interior design: Knowing where and how to hang artwork. "That skill is invaluable and has completely transformed the room. We have been able to highlight the existing art we already owned in places that are more appropriate for each piece's specific size and color."

What's included in my design pack?
The design includes a floor plan, elevations, inspiration images, and a customized shopping list. Examples of Ashley's design pack are shown below. Samantha's beautiful, detailed elevation expresses our team's décor decisions, all of which were compiled into a convenient and easy shopping list, from which Ashley directly purchased products.

As outlined here, our detailed directions enable you to execute great design on your own.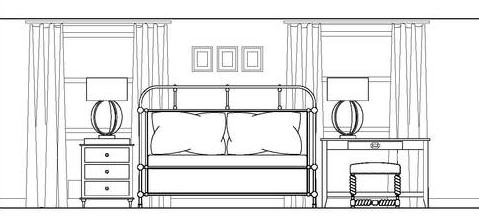 If you've ever thought about interior design, but weren't sure about the details or the time it would take to get it all done, eFunk is for you. So many possibilities await, all with the click of your mouse.

Live somewhere new without ever changing your address. Click to learn more about House of Funk's eFunk services.

Interested in learning more about House of Funk? Please visit their website and follow them on Facebook, Instagram, Twitter, and Pinterest for insight into their design process and inspiration.